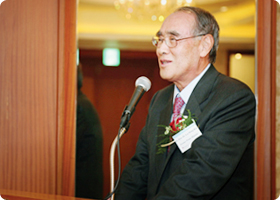 Dear friends, particularly those who are connected through the activities of The Seoul Forum,
Please accept a special greeting on the occasion of inaugurating The Seoul Forum Homepage Renewal.
Thirty two years ago when the Cold War was coming to an end, and a new global age was about to open with the peace festival of the Seoul Olympics, a group of like-minded friends started The Seoul Forum as a self-appointed vanguard of the Korean effort to join the effort to build a peaceful international community.
How far we have come - that is not ours to evaluate.
One thing in certain, however, the SFIA has become a close network of friends who share common perspectives and aspirations for Korea's role in the development of a global village. The key to this success for forging a special network of friendship is continuous communications among the members reflecting mutual attention for our thoughts and activities.
I sincerely hope The Seoul Forum Homepage Renewal will create a new impetus for creative communications among our members and friends, thereby open a new vista for the future works and activities of The Seoul Forum.


LEE Hong-Koo
Chairman of the Board
The Seoul Forum for International Affairs