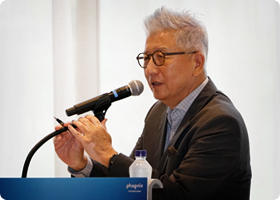 The Seoul Forum for International Affairs was established in 1986. The period of 1986 to 1991, in retrospect, was a great historical turning point. The Republic of Korea became a new "democratic state" with the popular election of president in 1987 after some 16 years. The Republic gained great confidence on herself with successful organization of the Seoul Olympics in 1988. The cold war started to end, first with the breakdown of the Berlin Wall in November 1989, and officially with the collapse of the Soviet Union in 1991. With successful completion of the Uruguay Round, the global economy entered a great period of liberal world order based on rules. If we have to choose one word to describe the period of 1986 to 2008, when the global financial crisis occurred, it will be "globalization." The Republic of Korea has moved along very nicely riding on this big wave and has taken gigantic steps in democracy, information technology development and economic liberalization.
However, in the current juncture of 2018, we are faced with great uncertainty and complexity. China became the second largest economy globally in 2010 and since then expressed its ambition to become a global super power. This ambition as well as China's economic and security measures have created tensions, especially with the United States. President Donald Trump, who started his first term in January 2017, has created a lot of controversies and uncertainties in the global order. In particular, he has expressed his strong desire of putting American interests ahead of the rule-based global order. On the technology front, we have already entered a period of gigantic shift with the introduction of new developments such as artificial intelligence, autonomous driving and block chain. In some sense, the period starting in 2018 could bring about more profound changes compared to the decade starting in 1986. But the problem is that this time, a lot of expected events could have many negative implications. More than ever before, every society and organization need to understand the nature of this "Deep Change" and prepare accordingly.
Since its inception in 1986, the Seoul Forum has focused its efforts on being a bridge between Korea and the international community. As a non-governmental, non-profit and non-partisan organization, the Seoul Forum has served as a window of diplomacy through its hosting of meetings, conferences and exchanges. During the first 32 years, the Seoul Forum has organized more than 150 bilateral forums with foreign organizations and over 300 policy dialogues with key decision makers in Korea and abroad. During this period, the Forum has collaborated with leading think tanks and organizations in some 27 countries. The Seoul Forum has fulfilled its mission and objectives mainly by building up networks both at home and abroad. Looking into the future, we will be pursuing this model of networking with leading policy organizations around the world. As the mode of communication changes from written and printed form to that of on-line and video/audio, the Forum should evaluate how to communicate more effectively with the target audience at home and abroad.
Let me take this opportunity to thank our collaborators and financial supporters who have helped the Forum fulfill its mission in the past. And most of all, I would like express my thanks and respect to former Presidents, board members, and past and current members of the Forum for their dedication and contribution to the cause of creating international public good.


JUNG Ku-Hyun
President
The Seoul Forum for International Affairs