A. History, Members and Finance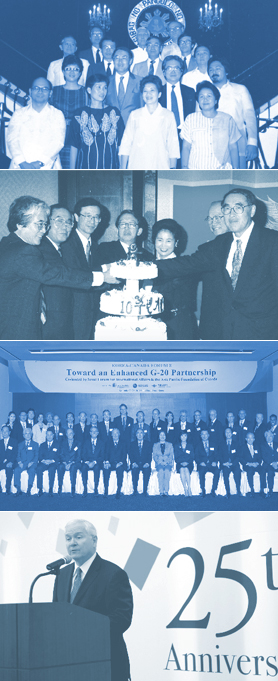 The Seoul Forum for International Affairs (SFIA) was formally established in 1986 as a private, non-profit and non-partisan organization aimed at promoting and enhancing international understanding of Korea in the global community. Membership includes leading members of academia, media, the public sector, legal profession and business. The Seoul Forum is financially supported by income from its members' annual fees, private donations, and grants from partnering foundations.
B. Organization
The Seoul Forum is headed by a President and Vice President. The Board of Directors provides the overall direction of the Forum. The Steering Committee is empowered by the Board to carry on organizational and functional responsibilities of the Forum with the assistance of the Secretariat. At the present time, the Steering Committee consists of the Chairs of the committees: (1) Program, (2) Membership, (3) Finance, (4) Public Relations, (5) General Affairs, (6) Research, (7) YoungSan Diplomat Award, and (8) Office Building.
C. Officers
Chairman of the Board of Directors
LEE Hong-koo
Presidents Emeriti
HAN Sung-Joo, KIM Dalchoong
President
JUNG Ku-Hyun
Vice Presidents
RYU Jin Roy, YOON Young-kwan
Members of the Board of Directors
HAN Sung-Joo
JUNG Ku-Hyun
KIM Dalchoong
KIM Myung Ja
KIM Yoon
LEE Seung-Hoon
PARK Young-ju
RYU Jin Roy
YOON Young-kwan
Auditors
KIM Hyo Joon, YI Insill
Steering Committee
CHUNG Jae Ho (Program)
EOM Gu Ho (General Affairs)
HAN Duk-soo (YoungSan Diplomat Award)
KWON Goohoon (Finance)
LEE Seung-Hoon (Office Building)
LEE Shin-wha (Research)
MIN Sunshik (Membership)
SOHN Jie-Ae (Public Relations)
Secretariat
CHOI Yoomi (Executive Assistant)
JIN Seul A (Intern)
KIM Lee-soo (Junior Fellow)
SOHN Gyu Won (Research Fellow)